Westlake Village North Ranch, CA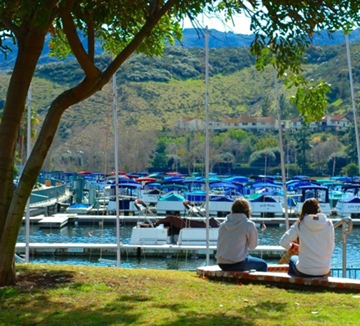 Westlake Village North Ranch, CA
Westlake Village North Ranch, CA is an exclusive neighborhood located in Westlake Village within the city limits of Thousand Oaks, California. Taking its name from the multitude of oak trees in the area, Thousand Oaks and North Ranch are conveniently located less than 40 miles west of Los Angeles and 12 miles inland from the Pacific Ocean, situated within the picturesque Conejo Valley. The valley is one of the most affluent areas in the county, holding a significant presence in the Tech Coast Area. Continually ranking as one of the safest cities in the nation, the neighborhood enjoys the moderate California weather and the booming economy of the small range of businesses nearby.
Boasting an excellent school system, there are 27 schools in the Conejo Valley Unified School District, 16 of which have been named Distinguished California Schools, while four have been named National Blue Ribbon Schools. Well kept parks and recreation centers offer great picnic spots, while transportation is made easy with several area airports, public transportation and a remarkable freeway system.
Westlake Village North Ranch, CA offers exciting nights, with a wide selection of clubs, concerts and playhouses in the area. With its centralized location, jaunts to the beaches, mountains or deserts are an easy day trip. Top off the amenities with the enviable Southern California climate of more than 300 days of sunshine a year, it's clear to see why North Ranch is such a terrific place to call home.
REAL ESTATE
Westlake Village North Ranch, CA traffic congestion and the pollution of larger cities, thereby presenting a desirable environment and location for residents. North Ranch provides residents with opportunities to enjoy the amenities of nearby metropolitan living, while experiencing the charm, safety and quality of a family community.
Properties in North Ranch's new home subdivisions and gated neighborhoods can easily exceed $10 million. Many homes in the higher end of the pricing spectrum include hill or mountain views, quick and easy access to the local golf course in the North Ranch Country Club, swimming pools, and a host of other exclusive amenities. Town homes and condominiums in North Ranch are available starting from $700,000. 
MORE
Along with exclusive living, Thousand Oaks is also home to the National Park Service's Santa Monica Mountains Recreation Area Headquarters. The Conejo Recreation & Parks District (CRPD) offers team sports, instructional classes, exercise classes and concerts in over 30 neighborhood parks and ball fields. The CRPD also operates the Teen Center and the Global Senior Center with year-round activities. Further, the Conejo Open Space Conservation Agency (COSCA) preserves more than 14,000 acres of natural open space and maintains more than 75 miles of trails. The city operates one public golf course, Los Robles Golf Course, and there are approximately 20 public and private golf courses within an hour's drive from the North Ranch.
Cultural benefits are also nearby. The Thousand Oaks Civic Arts Plaza is the only performing arts center of its size between Los Angeles and San Francisco, providing endless entertainment opportunities to residents.  As the center for numerous cultural and entertainment, the Civic Arts Plaza consists of the Fred Kavli Theatre for the Performing Arts, the Janet and Ray Scherr Forum, a spacious five-acre park and City Hall.
Recently, Money magazine and CNN rated Thousand Oaks one of the "Best Places to Live in the Country." The recognition is based on good schools, low crime, cultural activities, neighborhood safety and a strong economy; North Ranch and Thousand Oaks embody the advantages of such a community. Whether it's the diverse recreational opportunities, the legendary warmth of Southern California's climate or the family-friendly environment, North Ranch and the surrounding communities afford a quality of life second to none. To View Westlake village homes Click Here!
Where hard work and integrity mean something!
When Ken was asked what he considers to be the cornerstone to his success as a Realtor® with Troop Real Estate, he tells his clients, "I attribute my success to hard work and integrity. My main goal is to provide service that goes beyond of what is expected of me." As your Realtor, you can count on him to do just that because he understands that real estate is not about buying or selling a home—it's about your future.
Ken has been in the business of bringing buyers and sellers together for 13 years. Before he joined Troop Real Estate, he provided his services with Century 21. He considers his career to be nothing short of fulfilling and enjoys helping others achieve the American Dream of homeownership. He is committed to providing the utmost in client services, which includes unmatched negotiation skills and an ability to analyze the market and provide solutions for his clients. His areas of expertise include working with first-time buyers, investment properties, luxury homes, as well as the short sales and foreclosure markets.
When Ken isn't serving his clients, he is serving the community at large by working with local schools and the Care and Share Food Bank. Ken also donates his time once a year for the Troop Turkey Drive where he and his colleagues provide a Thanksgiving dinner to over 5,000 people.
Get in touch with Ken Grech today to learn how you can become a part of his legacy of success.
You can also view reviews here:
Contact information:
Ken Grech
Troop Real Estate
4165 East Thousand Oaks Blvd. – Suite 10
Westlake Village, California 91362
E-mail: kengrech1@gmail.com
Office: 805-581-3200
Direct: 805-217-1368
CA# 0132827
What Others Are Saying